High-Density Disk Drive Test System
The Teradyne Saturn™ HD is the industry leader in 3.5" Near-Line Hard Disk Drive (HDD) testing. It provides maximum throughput while minimizing factory floor space and power consumption. The system is designed to perform single insertion of SSW, BDSW and Burn-In as well as drive configuration. Using Saturn HD on the production floor will reduce drive build times, enable greater responsiveness to data center demands and lower test costs per HDD unit.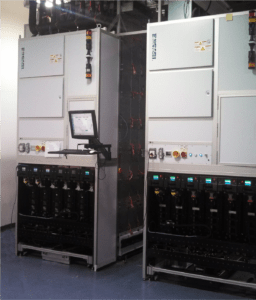 Offering the highest slot density per m2 in the industry, the Saturn HD can scale the number of test slots from approximately 4,000 to over 24,000 slots per system. Manufacturers using Saturn HD reduce the required factory floor space by 66% or more, versus a manual tester.
Teradyne's automated HDD test solution provides optimized vibe control to test SSW and BDSW. This is a key feature to enable single insertion testing with burn-in and drive configuration. The system eliminates operator touch points, Work-in-Progress (WIP) and excess material on the test floor ensuring a very efficient test process. The end result is the highest throughput per m2 of floor space.
Power consumption is an important element of test costs. One of the biggest power consumers in back-end test is drive thermal control. The Saturn HD uses conductive heating strips for performing hot temperature tests that directly contact the drive rather than inefficiently having to warm air to raise disk drive temperatures. Within the tester, a unique closed loop cooling system is used to reduce the disk drive temperature to ambient for continued testing. This thermal control approach results in the lowest power consumption per drive slot in the industry.
In addition, the Saturn HD offers a beneficial capability for testing individual drive models in each slot due to the asynchronous operating architecture of the system. This provides manufacturers with product mix flexibility while maintaining peak throughput.
Highest test slot density per m2 of the factory floor (3x over manual testers) – eliminates the need for multiple new factories
Highest through put per m2 of the factory floor
Efficient test process eliminates operator touch points and reduces drive lead time and WIP via ability to support single insertion of multiple test steps, including SSW and BDSW
Reduces power consumption per HDD tested
Per DUT thermal control and data collection
Asynchronous test slots can run individual drive models in each slot for total flexibility and optimized throughput
Back-End high volume manufacturing test for 3.5" HDDs in a single insertion
Tests helium-filled and air-filled drives used in Data Centers and Hyperscalers around the world
Supports both Windows and Linux operating systems
Executes customized test scripts via the system Applications Programming Interface (API)
Provides serial data System Management (SM) Bus or Universal Asynchronous Receiver Transmitter (UART) interfaces
Multi-temperature testing from ambient to +85°C
SSW and BDSW test capability in a single insertion
Extendable to interface with factory automation
Customizable data collection
Can support both WIN and Linux
Run customer test scripts via system API
Serial data (SM Bus or UART) interface
Ambient to +85C test range
Vibe control for sensitive SSW and BDSW tests
Power per slot to per slot drive power control
Factory Automation friendly