Ultra-high Performance Solution for Memory Device Test
Teradyne's Magnum EPIC is a high-performance test solution for latest generation DRAM devices. These devices are key enablers for technologies like 5G, AI, cloud computing, autonomous vehicles, AR/VR and applications with high definition graphics.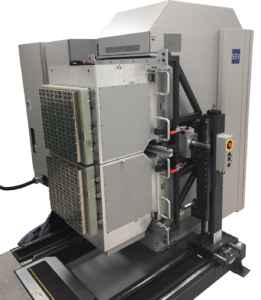 DRAM devices like LPDDR5, DDR5, LPDDR4x and Graphics DDR are produced in large volume and require high parallel test efficiency.  The current and future generations of high-speed DRAM devices also require excellent signal integrity performance from the test solution.
Testing Next-Generation Memory Devices
Let us use 5G as an example, the next-generation 5G mobile network promises improvements on throughput and latency many orders higher than 4G. 5G will enable amazing possibilities for multimedia and VR/AR applications. To achieve these possibilities, mobile devices would need advanced DRAM solutions to keep up with the speed requirements.
A traditional memory tester architecture has limitation for distributing high-speed signals to the Device under Test (DUT). It uses long cables between the Signal Instrument (Pin Electronics) and the Device Specific Adapter (DSA) or Loadboard for signal delivery. This approach degrades the quality of signal delivered to the DUT due to signal attenuation.
So, how does the Magnum EPIC improve signal integrity performance for high data rates, which new DRAM devices require?
Magnum EPIC utilizes revolutionary Near DUT Test (NDT) technology where the Signal Instrument (Pin Electronics) interfaces directly with the DSA, thereby eliminating the long traditional cables used for signal delivery. As a result, Teradyne's innovative NDT technology delivers the best signal integrity performance at the highest data rate. In addition, NDT technology results in a much shorter Round Trip Delay (RTD) time, which decreases test time for Read Modify Write (RMW) patterns.
Magnum EPIC also supports advanced features like source sync required for testing latest DRAM devices. Source sync increases the eye size of the DUT output DQ signals, thereby enabling higher yields and improving margins.
Magnum EPIC SSV
Teradyne's Magnum EPIC SSV is configurable production test system for final test applications. With over 18.4K high-speed digital channels (at 7Gbps per channel) and 2K device power supply channels, the test system maximizes parallel test capacity needed for high-volume DRAM devices. The system can be configured with up to 128 Memory Test Units (MTUs) which contains a pattern generator and 144 high-speed digital pins.
Magnum EPIC EV
Magnum EPIC EV is a self-contained engineering test system for test program development and debug. It is configurable with up to 1,152 high-speed digital pins (at 7Gbps per channel). Test programs and the Device Specific Adapter (DSA) are fully compatible with the Magnum EPIC SSV production system.
For each tester configuration, it is easy to upgrade while maintaining DSA and test program compatibility.
Production and Characterization Testing of High-Speed DRAM Devices
Magnum EPIC leverages the industry standard Magnum suite of ATE software. Its ease of use greatly helps in test program development, debug and smooth transition from bring-up to production phase.
In addition, the Magnum EPIC supports concurrent testing of Multi Chip Package (MCP) devices (LPDDR and NAND in one package); thereby further increasing parallel test efficiency.