Automate Material Handling With Ease
Teradyne's portfolio of autonomous mobile robots (AMRs) automates material handling tasks with payloads from 100 kg (200 lbs) to 1350 kg (10,000 lbs).
Mobile Industrial Robots (MiR) is  the leading company in this space. It offers high-performance, easy to deploy solutions that increase the efficiency of in-house transportation and logistics.
The Future of Internal Logistics
Through collaborative, flexible technologies, MiR enables enterprises – both large and small – to automate their material handling. These mobile robots are cost-effective and safe to work around people, offering rapid return on investment and freeing employees from dull, dangerous and dirty tasks.
MiR offers a broad range of infrastructure free AMR solutions for light payload to heavy payload on one software platform with user-friendly design for any employee to collaborate wit. All AMRs in the MiR product range are flexible and easy to redeploy for different tasks in dynamic environments, giving customers full ownership of their AMR solution.
It enables Teradyne to provide you with the automation that you need in a world on the move.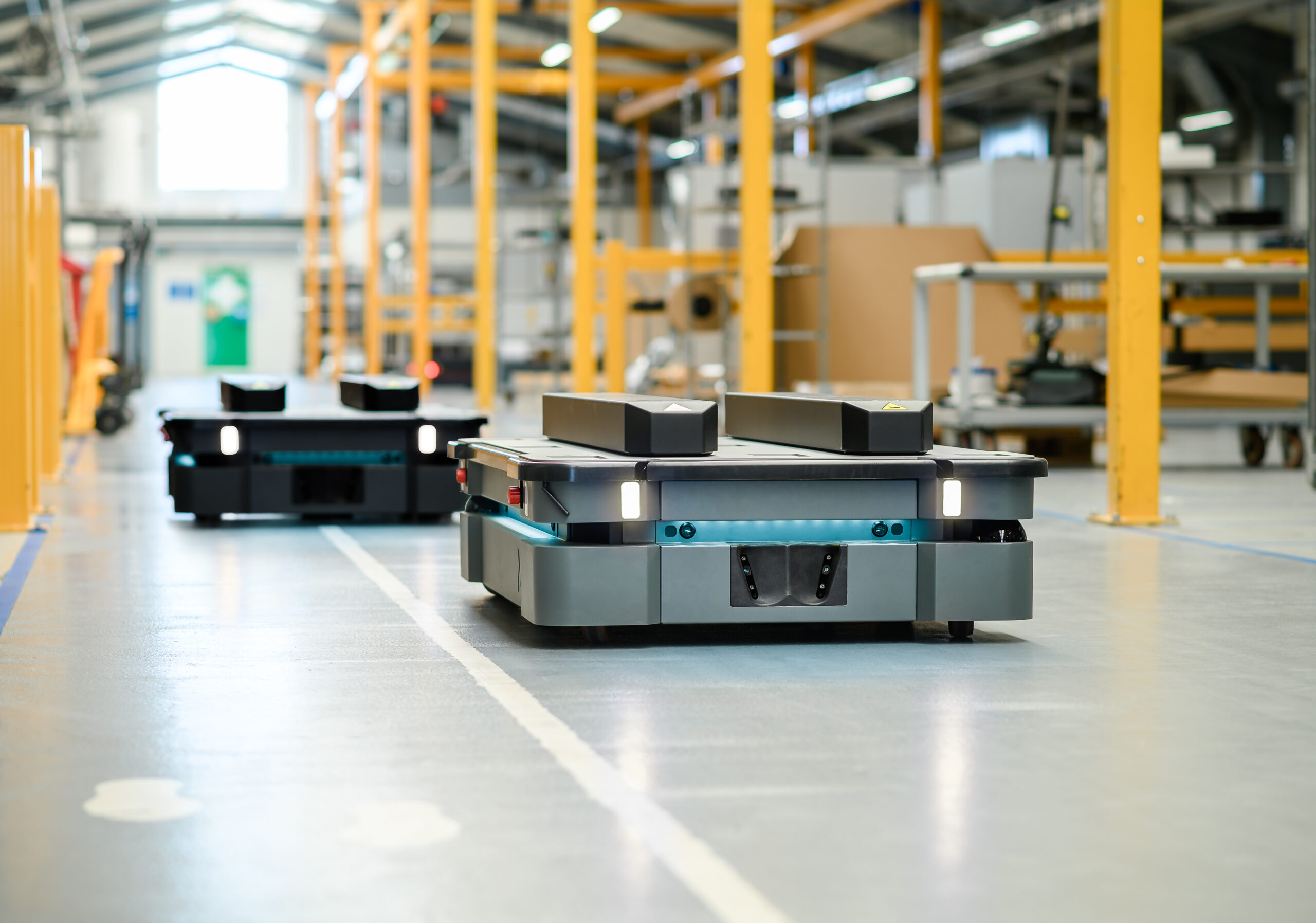 Transport Anything Anywhere with AMRs
Addressing a range of low to high-payload tasks, MiR's autonomous mobile robots streamline material handling in industrial and warehouse operations
Benefits of Autonomous Mobile Robots
Transform Material Handling
AMRs autonomously move inventory quickly and efficiently. Unlike autonomous guided vehicles, which are expensive, rigid and complex to install, autonomous mobile robots are affordable, flexible and safe. AMRs deliver a sustainable solution for labor-intensive material handling tasks – enabling you to lower costs, improve productivity and optimize capacity.
Increase Safety and Improve Collaboration
From low- to high-payload transportation tasks, AMRs enable you to move materials, safely and collaboratively. Built with the top safety features and software on the market, Teradyne's AMR solutions determine the optimal delivery paths in real-time and integrate easily alongside your people, driving new levels of human-machine collaboration and factory performance.
Work Faster and More Effectively
Autonomous mobile robots give manufacturers and distributors a quick and easy way to automate material handling tasks, increase the accuracy of intra-operational delivery and improve inventory management. Teradyne's AMR brands offer winning solutions to streamline your operations and achiever a faster ROI. Mobile Industrial Robots (MiR)
Autonomous Mobile Robots for Low- and High-Payload Tasks
A first mover in the AMR space, MiR specializes in low- and high-payload tasks with solutions that easily transport payloads up to 1,350 kg (2,000 lbs). Its fleet of autonomous mobile robots are easy to install, able to determine optimal delivery paths in real-time and can be programmed for multiple tasks quickly.
Innovative technology and sophisticated software allow MiR robots to autonomously maneuver around obstacles. When the robot meets an obstacle, it automatically moves around it and redirects the route to avoid stopping or delaying the delivery of materials.
With easy programming and deployment, MiR robots lower the barrier for companies to automate their logistics operations. Using an intuitive interface, MiR robots can be programmed without prior experience and are designed to be integrated into your existing ERP system without the need to redefine your workflow. All MiR robots are controlled by the same software, which makes it easy to deploy and scale entire robot fleets.
Elevating Safety and Productivity
Achieving the perfect manufacturing equilibrium – peak worker safety and productivity – is no easy task. The very nature of manufacturing, which often includes heavy and fast-moving equipment and physical work, takes a toll on people and productivity.
Advanced automation solves this dilemma. Robotic innovation gives manufacturers of all sizes new ways to achieve the ideal state, where workers remain safe and productivity remains high:
Autonomous mobile robots (AMRs) can work alongside people and automate the repetitive, risky and dangerous work – increasing productivity and reducing injuries through automation
AMRs free the team from monotonous work, positioning people to focus on critical productivity KPIs, including throughput, quality, innovation and overall performance
Learn more about the vital role of advanced automation in manufacturing safety and productivity. Teradyne's Expanding Portfolio of Robotics
Teradyne acquired MiR in 2018 and AutoGuide in 2019. MiR acquired AutoGuide in 2022. Along with Universal Robots, the two companies together now make up Teradyne Robotics.