The World's Leading Semiconductor Test Platform
The UltraFLEXplus combines new instrument and software capabilities with a revolutionary tester infrastructure that provides a step-function improvement in throughput and engineering efficiency – all while leveraging the cumulative test IP developed over the UltraFLEX's long history.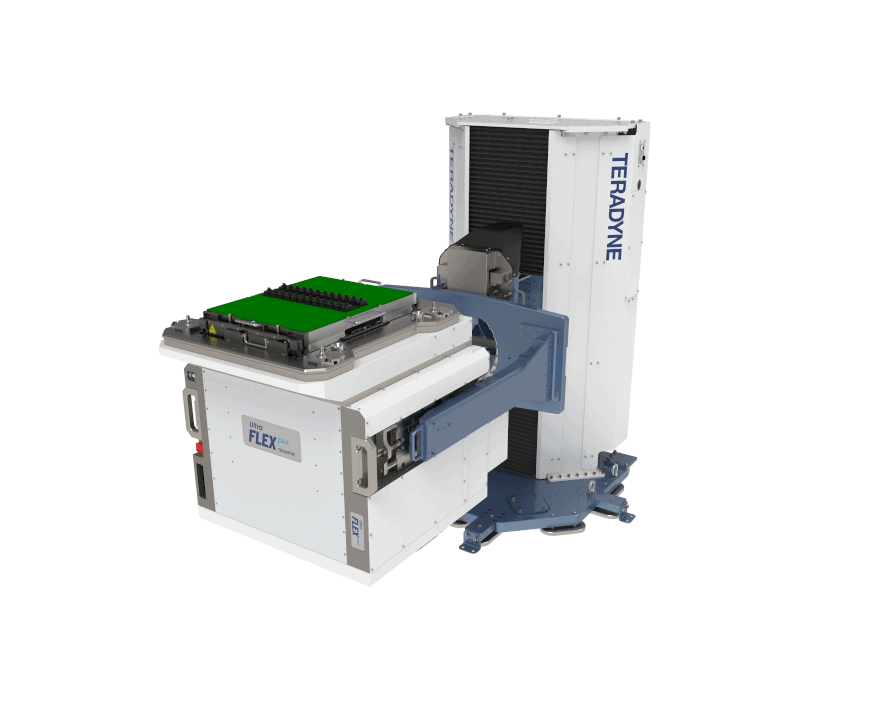 Fastest Time to Production
IG-XL software compatibility and the new Broadside Applications Interface enables test engineers to be more productive from the start and reduce the time to production by more than 20%.
Highest Throughput
The new UltraFLEXplus architecture increases site counts and improves parallel test efficiency, increasing overall throughput and  reducing the number of test cells required by 15%-50%.
Scalable Architecture
The UltraFLEXplus can be redeployed for multiple product lines and upgraded for future product requirements, increasing reuse and extending the asset's useful life.
Applications
Mobile Application Processor
Digital Baseband Processors
High Data Rate RF Transceivers
Mobile Power Management ICs (PMIC)
Microprocessors
Network Processors
High Speed SERDES (SERializer/DESerializer) and Backplane Transceivers
Storage Controllers
High-end Microcontrollers
Audio and Video Processors
Configurations
The UltraFLEXplus has 3 base systems that allow customers to optimize capital cost, floor space and maximum resource count. All three versions utilize the Broadside DIB for higher density, higher site counts, and simplified routing.
UltraFLEXplus Q24
24-slot system
UltraFLEXplus Q12
12-slot system
UltraFLEXplus Q6
6-slot system
Suite of New High Performance Third Generation Instruments
UltraPin2200 – Next Generation Digital Instrument
High density, 512 channels per instrument
32 pattern generators per instrument for concurrent test or unique pattern flows per site
Proprietary, hardware-based protocol aware capability
Dedicated memories for non-deterministic data testing
Up to 16Gbit scan test capacity with a flexible pattern memory architecture
Data sharing across sites
UltraPAC300 – Next Generation High Density Analog Instrument
High performance audio and baseband AC instrument
Coverage up to 300MHz
Dual mode high speed and high-resolution channels
UltraCTO384 – High performance, High Density Converter Test Option
128 source channels, 128 capture channels, and 128 reference channels

Single ended and differential embedded converter test up to 16 bits of resolution

Sine and smooth ramp generation for at-speed testing

+/-50uV voltage measurement accuracy for device trim

DUT voltage sense for both source and reference

Integrated source to reference calibration minimizes DIB circuitry requirements allowing for high sitecount
UVS256-HP – High Density, Highly Flexible General-purpose Device Power Supply
256 channels per instrument
Flexible merge capability
Excellent dynamic performance
Low noise
Four quadrant voltage or current source and measure
UVS64 – Next Generation Core Power Supply Instrument
Extremely accurate, stable resource for device core supplies
Unmatched dynamic performance
<1mV 6 Sigma voltage accuracy
Up to 320 Amps of device power per instrument
Merge up to 1,600A for a single supply
Supports instantaneous system-wide current steps of up to 2,560 Amps
UVI264 – High Precision, High Density DC Instrument
104 low voltage channels muxed to 248 connections
8 high voltage channels muxed to 16 connections
Flexible channel merge for USB charging standard
High precision DC measurements
Leveraging our customers' existing investment, the UltraFLEX family of testers strives to reduce the engineering effort required to develop and deploy new test programs with comprehensive instrumentation and our IG-XL software, an industry standard with over 10,000 active programmers that has been continually enhanced over UltraFLEX's long history.
As the leading provider of complete test cell solutions and services, we at Teradyne leverage our expertise, experience, and technology leadership to help our customers achieve the highest yield and throughput in production with the fastest time to market. We partner with you in your journey from design to production to provide standard and customized test cell products and services.