Magnum V for NAND Testing
Ultra-High Performance FLASH and DRAM Memories Test Solution
Teradyne's Magnum V systems delivers high throughput and high parallel test efficiency for ultra-high performance FLASH and DRAM memories. Magnum V's largest configuration delivers up to 20,480 digital channels at 1600Mbps per channel.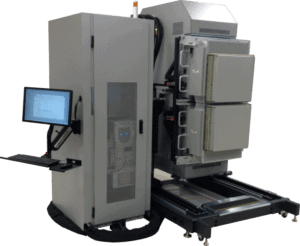 High Performance
The Magnum V's 1.6Gbps SuperMux mode covers today and tomorrow's next generation ultra-high speed memory devices.
High Parallelism
The Magnum V GV can be configured for up to 20,480 digital pins to maximize the parallel test capacity for production test. The maximum number of tester resources is routed into the smallest possible area at the highest pin performance.
Scalable Platform
For each configuration, it is easy to add additional tester channels to existing "cable ready" TIU's while maintaining DSA compatibility at the maximum parallelism for current and future devices.
Independent Site Resources
The local 3.4GHz Quad-Core site processor supports multiple test programs for concurrent test, single insertion MCP LPDDR and NAND at optional parallel efficiency.
LPDDR Feature Set
The Magnum V features pattern and timing extensions for DRAM to provide for fusion memory coverage and flash and DRAM test on a common platform.
eMMC
Toggle NAND
Legacy NAND
ONFI FLASH
MCP
eMCP
LPDDR2
LPDDR3
Magnum V EV
Self- contained, low-power engineering test system for test program development and debug
Configurable up to 1,024 digital pins in 512 pin increments
Fully compatible with DSA-TCALDX and DSA on other SSV and GV production systems
Magnum V SSV (FT)
For final test applications
Configurable up to 10,240 digital pins
Integrated with Teradyne Vertical Plane Manipulator for efficient docking to industry standard device handlers
Magnum V GV FT
For final test applications
Configurable up to 20,480 digital pins
Integrated with Teradyne Vertical Plane Manipulator for efficient docking to industry standard device handlers
Magnum V SSV WS
For Wafer Sort applications
Configurable up to 10,240 digital pins
Uses Teradyne standard 520mm probe card standard wafer sort interface
Designed to adapt to third party column manipulator that minimizes the ceiling height specifications
Final Test "Tester Interface Units" (TIU's)
The SSV and GV TIU's interface 1.6Gbps digital channels to the handler DUT contactors. Handler specific TIU's are available for multiple Techwing and Secron device handlers including TW322, TW-S7, TW350, and STH5600. Magnum V TIU/DSA interface technology provides maximum signal performance with a single cable direct interconnect to the DSA (socket board). This eliminates the need for costly 3rd party motherboard/cable/socket board tooling.
Wafer Sort TIU's
The SSV wafer sort TIU employs the K52 probe interface used on multiple Teradyne wafer sort system configurations. The wafer sort SSV TIU can be swapped with any final test SSV TIU to provide for maximum flexibility in the production test environment. Magnum V K52 interface provides a direct dock, tower-less connection to the probe card for lowest cost and maximum performance.
DSA Style TCALDX Calibration
The DSA TCALDX options are handler specific calibration units specifically designed for a customer selected TIU. Once a Magnum V is calibrated, the calibration tables match the customer device specific DSA's that are loaded into the TIU.
Interface Solutions
DSA Style TCALDX, DUT BD Stiffener Kits, Probe Card Stiffener Kits, Contactors
Magnum operating system is a DUT-based multisite architecture. Magnum's software has been architected to provide test engineers with true device-oriented parallel test programming environment. A test engineer writes a test program for a single device and the systems hardware clones the tests into multiple sites automatically. Test programs developed on the Magnum V EV can be used on production version Magnum V's to maximize parallel test. All the software tools are site savvy, enabling test engineers to investigate device performance, on any DUT site, as though it was a one-site tester.